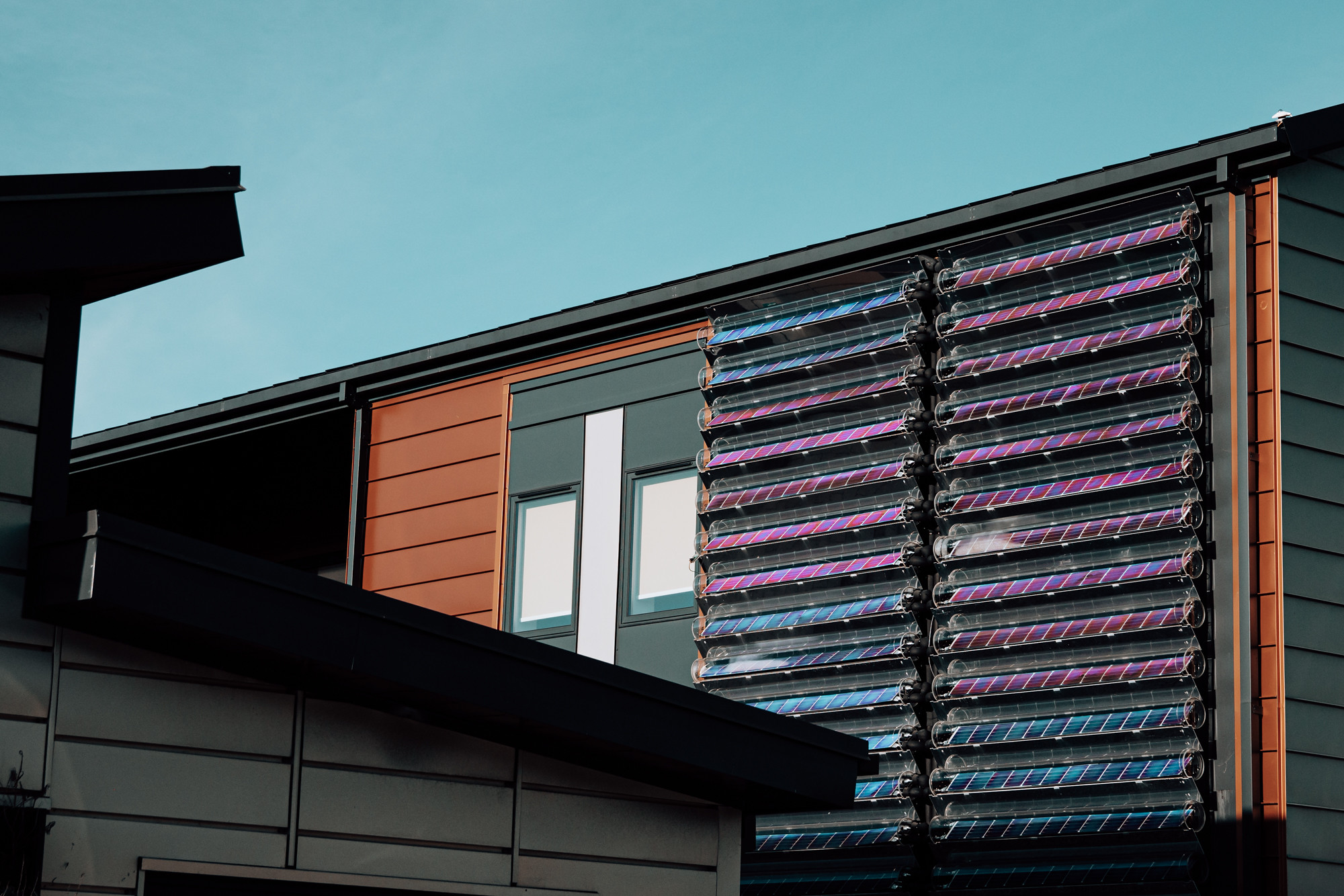 PRINCIPLE 5: Electric Vehicle Integration
Where appropriate Active Buildings integrate electric vehicle charging. As technology develops, bi-directional charging will allow electric vehicles to deliver energy to buildings as required.
Design Guide:
Key Design Considerations
EV charging requirements should be determined before sizing energy generation and energy storage systems.
Identify the power requirements to inform the electrical design.
Location of chargers in relation to building and electrical connections.
Impact on site layout.
Identify the types and quantities of EVs that charging facilities are required for. Types of EV charging facilities provided:

For electric cars, motorcycles and vans:

Charging spaces adjacent to the building
Charging spaces within the carpark, maybe used in conjunction with PV parking canopies
Roadside chargers for use when street parking is the only option (kerb or lamppost options)

For electric bicycles and scooters

Bicycle shelter with integral PV
Bespoke e-bike charging shed

For electric buses (schools, airports, large manufacturing facilities)

Charge points outside building and in coach park

Smart chargers can shift the time of day when an EV charges or modulate the rate of charge at different times. This allows the building owner to change the speed of charging or delay the onset of charging based on variables such as demand, CI of grid, or as a response to price signals. Always specify smart chargers:
EVs can assist with the smart operation of an Active Building if bidirectional functions are included, by running their chargers in reverse, putting power back into buildings or the grid, at times of peak electricity usage or electricity shortage (not yet available in 2020).
Smart chargers can respond to the value of electricity, as well as the car user's requirements. For example, the charger could satisfy the user's requirements when the sun is shining and switch off the charger when the sun is obscured, or when other forms of demand increase, hence providing a useful service in balancing the grid. They could also be programmed to extract from the grid when the price of electricity is lowest and feed into the grid when the price for electricity import is highest.
Electric vehicles can add significant energy load to a building – controlling their charging regime will ensure they take energy either when need is identified through calendars, or when the building demand is low​.
Smart charging will protect both the building owner and the grid, which would otherwise be put under huge stress through the electrification of transport.
Load management of multiple chargers – when only a few in use charge rates are high but, as more chargers are used, the available load is distributed across all chargers. This ensures capacity is not exceeded, but maximises charging stations for destination type charging – i.e. longer, but slower charging is reasonable as vehicle is likely to be present for long periods (office car parks, entertainment venues, etc)
Types of EV Chargers for Cars and Vans
There are generally two main types of charging required:
Destination charging – where people travel to a location and stay for a period of time (slower charging feasible, but with more stations).
Utility charging – such as motorway service stations – as much charge as quickly as possible (similar to a fuel station).
Some EV chargers use AC electricity and some use DC:
AC Chargers (22kW or less): Maximum charge rate is determined by the vehicle hardware – the chargepoint is an energy source for AC power and the vehicle inverts it using onboard hardware. This means that some cars will charge at 22kW and some will only charge at a maximum of 7kW, depending on the vehicle model.
DC Chargers: DC chargers bypass the vehicle inverter to provide DC energy. The vehicle communicates with the charger to control the charge rate – either CHAdeMO or Combined Charging System (CCS) protocol and connections. Hence most DC chargers have two cables, although they can often cnly support one in use at a time.
Advice
For home owners, there is a UK Government funded grant available through the EV chargepoint grant which offers homeowners a 75% contribution towards the cost of installing electric vehicle smart chargepoints at domestic properties across the UK.
Check Planning Policy and Local Planning Guidance to determine the minimum provision of EV charge points required.
If manging a fleet of EVs, consider fitting geotags or other tracking devices to each vehicle to provide locations of vehicles and information on their state of charge. If linked to a car booking system, it can be a helpful way of checking availability.
Technology Showcase:
Examples of EV Chargers
Here are some examples of different EV chargers available for use within the built environment.
Free standing chargers
Wall mounted chargers
Lamp post mounted chargers
Parking Canopies
Kappion offer two designs for their solar carports – a cantilevered option, capable of spanning up to 6.5m; and an option with intermediate supports.
GRIDSERVE have developed a design for a fully electric forecourt, complete with PV parking canopies and battery storage. Their design includes a building which offers customers a space to work in, learn more about EVs, or get some refreshments, while they wait for their car to charge. The first electric forecourt to be constructed in the UK is in Braintree, Essex, due for completion in 2020.
If you have a technology you would like to be included in the Technology Showcase, then please get in touch.