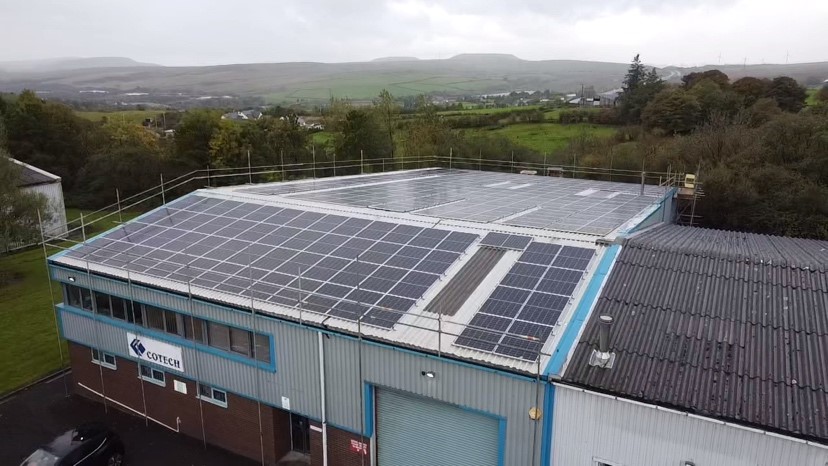 Case Study: Renewable Energy Impact Assessment at an Industrial Estate (Cotech Sensitising Ltd)
Overview
SPECIFIC offers companies that are looking to run more sustainably with independent, expert advice on renewable technologies and energy modelling.
As a collaborator on the 'BlaZE' project (Blaenau Gwent Net Zero Energy business parks by the Welsh Government and Blaenau Gwent County Borough Council, in collaboration with Bank Energi, CarbonTRACK, IBECCS, and Wales and West Utilities), SPECIFIC engaged with Cotech to support them in reducing their carbon footprint and energy costs.
Cotech Sensitising Ltd are a Tredegar-based company specialising in lighting and LED filter design and manufacturing. At their premises on the Tafarnaubach Industrial Estate, Cotech were looking to use renewable energy technologies to reduce their carbon footprint, reduce energy costs, and improve market competitiveness. To support these ambitions, SPECIFIC conducted a detailed renewable energy impact assessment using site energy data and quotations for on-site solar PV and battery installation provided by Cotech. Following an analysis of the data, SPECIFIC provided recommendations for the on-site installation of renewable technologies.
As a result of this collaboration, Cotech have now installed a solar panel system (109.35kW) and a battery (23kW Solax Triple power storage battery) on one of their units, and they plan to do the same for two more of their units during 2023. The batteries will have the storage capacity to save peak solar energy generated between 3pm on Fridays and 8:30am on Mondays, and will provide approximately 40% of Cotech's energy consumption.
.
Project partners: Cotech Sensitising Ltd, Bank Energi, CarbonTRACK, IBECCS, and Wales and West Utilities.
Aims
Analyse energy data for Cotech Ltd's premises
Undertake a detailed renewable energy impact assessment
Publish a report on the outcomes of the collaborative project
Impact
Strengthened collaboration in research knowledge transfer between SPECIFIC and Cotech Sensitising Ltd
Potential for development of new Academia-Industry funding streams and projects
Improved marketing and competitiveness for both Cotech and SPECIFIC
New-to-firm process for Cotech of optimised renewable energy self-generation and storage
Decreased costs and carbon footprint for Cotech
After one year of operation, the PV system has saved Cotech £25,000 meaning the predicted payback period is just 4 years.