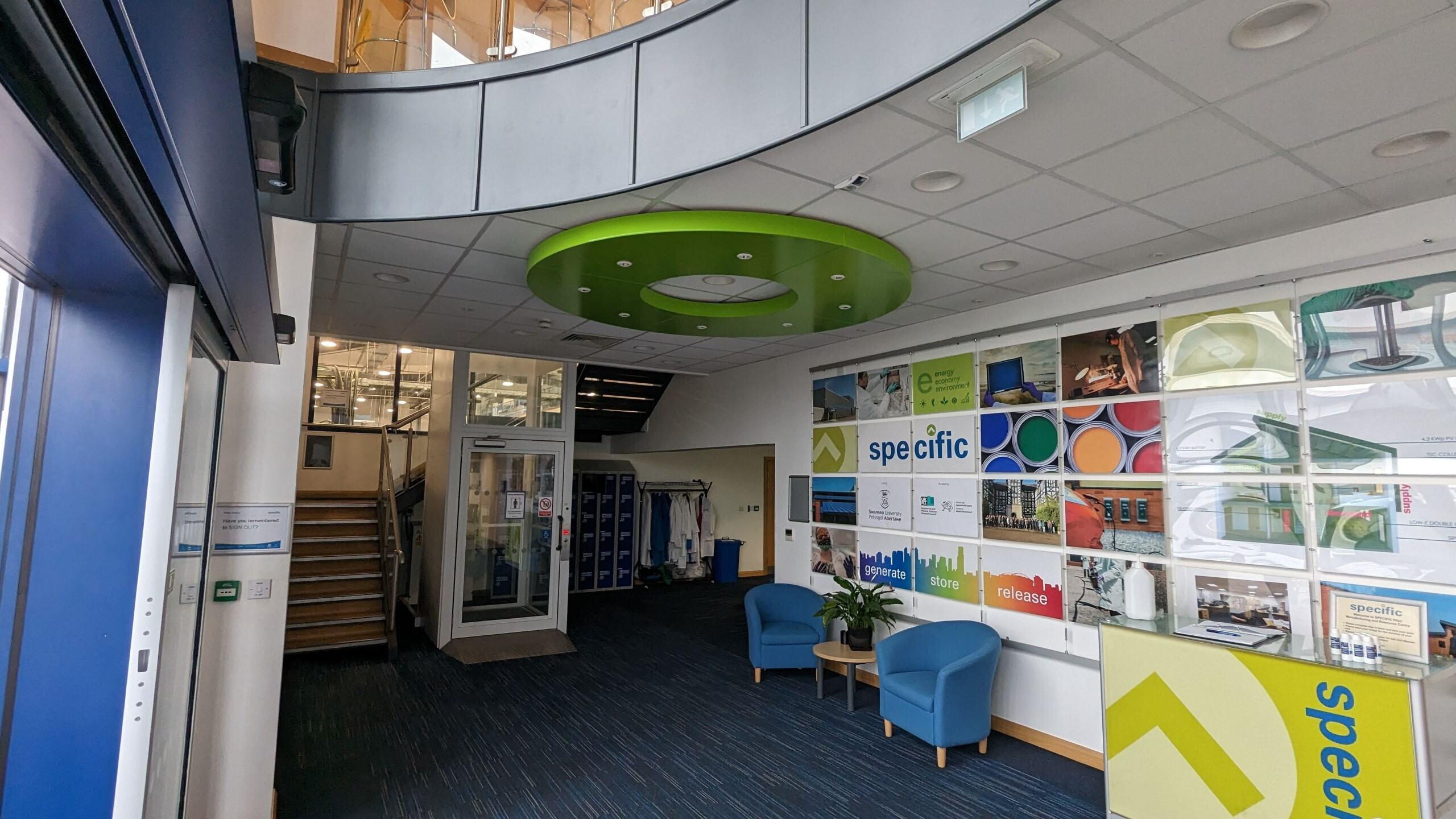 CASE STUDY: Evaluating Wireless Environmental and Energy Monitoring Sensors Within Buildings

Overview
SPECIFIC offers valuable insight and performance data to companies with innovative, low-carbon technologies, enabling them to improve their existing products or processes.
SPECIFIC's established building demonstrators are designed to measure parameters such as temperature, humidity, CO2 & light levels, energy usage, and building occupancy. Understanding and optimising the control of buildings based on these factors can play a significant role in minimising energy consumption and carbon emissions, and ensure the overall comfort and safety of occupants in buildings.
This multi-partner project with CAE Technology Services, Cisco, ISTL and EnOcean, focused on conducting a proof-of-concept (PoC) data acquisition and monitoring study at SPECIFIC's PMRC building in Baglan using wireless environmental and energy monitoring sensors provided by EnOcean (and their vendor partners), Cisco hardware, and a workspace management platform (iSPAYCE) provided by ISTL. One of the key aims of this project was to trial an integrated solution that uses existing Wi-Fi access points as IoT gateways to remove the need for additional hardware, hence reducing costs. This system involved using CT Clamps from EnOcean vendor, Pressac, as an alternative to industrial submeters. CT Clamps provide similar granular data at much lower cost, are easier to deploy, and use existing Wi-Fi infrastructure.
The EnOcean protocol is an energy harvesting wireless communication technology that combines micro energy converters with ultra-low power electronics. This enables the transmitters to harvest their energy from the environment, e.g. from ambient light, temperature, and motion. These features are well suited for wireless and battery-less sensors that can be retrofitted into existing buildings with ease, allowing the monitoring of essential environmental, occupancy, and energy data within buildings with minimal installation works or disruption.
The project was divided into three key phases:
Installation of Wireless Sensing hardware:The first focus area involved the installation of 18 maintenance-free wireless sensors across five specifically designated zones spanning two floors within the building. These sensors were installed to acquire data on several key parameters, including temperature, humidity, CO2 levels, motion, brightness, door closure contacts, occupancy (people counting), and energy usage.
Deployment of Networking Infrastructure:The second focus area entailed deploying Cisco Wi-Fi Access Points with an embedded IOx edge application for secure tunnelling, Cisco Catalyst series Switching and a virtual Wireless LAN Controller (vWLC) for co-ordination. These components formed the backbone of the network infrastructure required to support seamless data transmission from the wireless sensors to the central monitoring system.
iSPAYCE Dashboard Development and Enhancement:The third focus area centred around the development and enhancement of the iSPAYCE workspace management platform, which served as the central interface for visualising and analysing the collected data.
In addition to acquiring valuable environmental, occupancy and energy data, the project enabled us to answer key questions related to ease of deployment, robustness and performance of wireless sensing systems targeted at retrofit applications, and the efficacy of the CT Clamp energy meters. We were able to validate the acquired data, add new energy monitoring functionality within iSPAYCE, and provide feedback on the overall performance of the system prior to potential deployment in other buildings.
Project partners: EnOcean, CAE Technology Services Ltd, Cisco, ISTL
Aims:
Acquire and install hardware and associated software at PMRC, including EnOcean wireless sensors and Cisco networking infrastructure.
Support the commissioning of the cloud based iSPAYCE dashboard platform.
Analyse acquired environmental, occupancy and energy data.
Assess ease of deployment and usability of the system.
Impact:
Provided feedback and suggested improvements to the system deployment, ease of use and data visualisations.
Validation of a new low-cost approach to granular energy monitoring, vital due to rising energy prices and to support decarbonisation.
As a result of development work during the project, the iSPAYCE dashboard now displays essential building energy usage and CO2 emissions data in addition to environmental and occupancy data.
After installing the EnOcean sensors, occupants of the PMRC building were able to make informed decisions on where energy and carbon savings could be made.
Strengthened collaboration and knowledge transfer between SPECIFIC and its industrial partners.
Improved market competitiveness for SPECIFIC and its industrial partners.
Development of new collaborative R&D opportunities with the project partners, during and beyond the duration of this project.