dr justin searle
Building Energy Systems Research Lead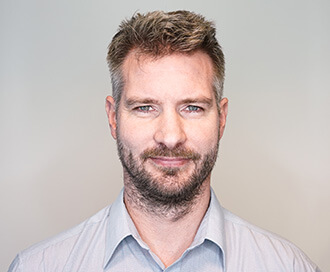 Having studied analytical chemistry at Swansea University, Justin went on to complete an engineering doctorate studying the photostability of PVC paints. His work involved the development of a rapid test for the assessment of photodegradation of coatings and their components, including assessing both the rate and the intermediate chemical species produced. Justin was also co-developer of Swansea's 3-dimensional scanning vibrating electrode instrument, capable of investigating the corrosion processes occurring on non-planar samples such as welds and formed components.
On completion of his doctorate Justin worked within Tata Colors, at Shotton Works in Deeside. During his almost 10-year career in industry, he worked within the Technical Department, primarily looking at through process improvements for both galvanising and colorcoat lines.
Justin returned to work within SPECIFIC at the end of 2011. During his time at SPECIFIC he has developed automated solar cell testing equipment to increase the throughput of the characterisation of devices and also a system of examining the solar cell lifetime via an automated light soaker and IV tester. He has worked and collaborated across many of the research themes within SPECIFIC and for over 3 years Justin managed the technical relationship and project development for one of SPECIFIC's strategic partners.
In 2016 he took on the role of Deputy Research Director, assuming responsibility for managing the research and development pipeline and team development working closely with the academics and technologists to define research targets and strategic planning. In 2018, Justin took on the role of Technology Director leading the technical delivery teams for buildings, systems integration and technology demonstration, responsible for technology demonstration and delivery at building scale.