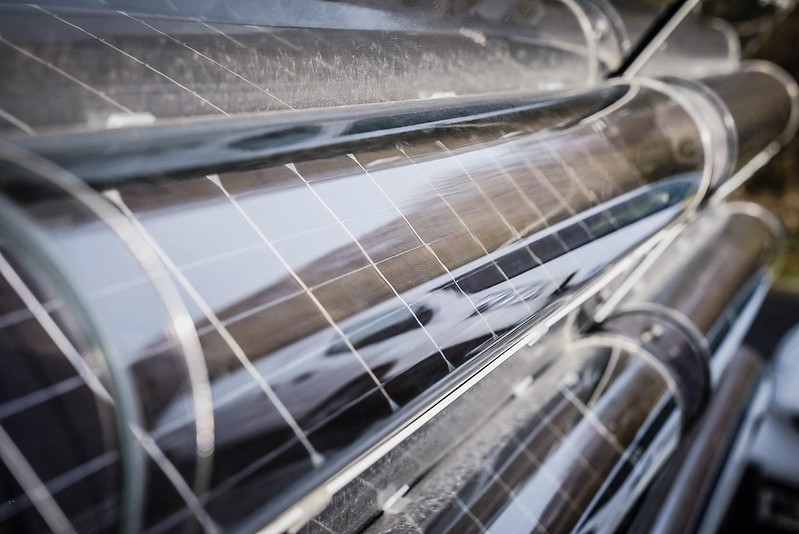 Case Study: Integrating 'New to Market' Solar Technology with Naked Energy
Overview
SPECIFIC works with innovative companies with new-to-market technologies to help them gain valuable insights ahead of adoption by consumers and the construction sector.
The Naked Energy VirtuPVT (photovoltaic–thermal) tubes were installed for this very reason and the partnership has helped the company gain real performance data, showcase their product to the market and subsequently secure £5M investment funding.
Before integration into the Active Office, the Naked Energy technology was at a pre-commercialisation stage and they were awaiting their first commercial order to firm up the supply chain. The VirtuPVT tubes were of particular interest to SPECIFIC as we were looking to install the technology on a vertical elevation (as opposed to a roof), providing more usable area for functionalisation. In addition, the combination of the solar PV (electrical) generation and the solar thermal generation via evacuated tubes fits within the ethos of the building, which is to integrate electrical and thermal generation technologies.
Project partners: Naked Energy Ltd
Aims
Help to commission and demonstrate an innovative, renewable energy product via a commercial order and provide feedback on performance and issues to enable further systems integration and development of the product
Install onto a vertical façade to increase the usable functional surface available for the office and integrate this with a large-scale thermal store
Examine the use of a novel solar PVT technology as a potential engine for the thermochemical storage materials being developed by SPECIFIC
Impact
2.4kWp electrical, 9.6kWp thermal
Successfully installed and commissioned 40 new-to-market solar PVT tubes on a vertical façade
Provided 18 months of performance data based on a working integrated solar thermal system: generation 2.5MWh electrical and 4.8MWh thermal
Helped enable further investment funding for Naked Energy (£5M)
Peak temperature of the solar thermal output was 84°C, demonstrating compatibility with novel developments around thermochemical storage salts