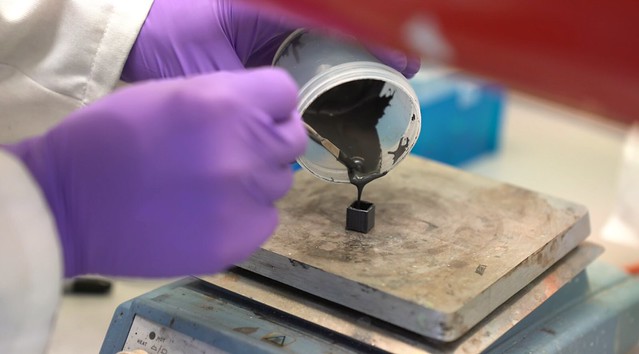 CASE STUDY:
RECORD EFFICIENCY FOR A PRINTED
THERMOELECTRIC MATERIAL
Overview
We have manufactured a new 3-D printed thermoelectric device, which converts heat into electric power with an efficiency factor over 50% higher than the previous best for printed materials.
Around one-sixth of all the energy used by industry in the UK currently ends up as waste heat, emitted into the atmosphere. Harnessing this to create electricity could be a huge step forward in helping industry cut its energy bills and reduce its carbon footprint.
Thermoelectric materials turn differences in temperature into electric power, or vice versa. They are used in fridges, power plants and even some smart watches that are powered by body heat.
Aim
Tin selenide (SnSe) has high potential as a thermoelectric material, but is expensive to manufacture. Our technique enables SnSe thermoelectric generators to be produced quickly and easily in large quantities, making it very low-cost for industry.
The efficiency rate – for turning heat into electricity – is around 9.5%, compared with 4.5% for the previous highest.
Impact