SHARON BISHOP
Communications Manager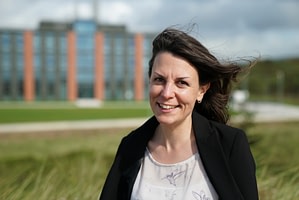 Sharon leads communications for SPECIFIC.
She achieved her degree and research masters in Materials Engineering from Swansea University in 1999 and worked as an engineer in the power industry for five years before moving into public-engagement with science.
Sharon joined SPECIFIC in 2014 from Cheltenham Science Festival where, as Director, she led its growth to attract 50,000 members of the public and over 300 participants a year.
Since 2006 she has been involved with FameLab, a global competition and communication training programme for scientists, and still runs the Wales part of the UK competition.
Sharon is a founding member of Swansea University's public engagement forum and a member of the board of Oriel Science. She was also a core part of the team that brought the British Science Festival to Swansea in 2016, and established the annual Swansea Science Festival in partnership with the National Waterfront Museum.